It is almost a given that people know of Omega's link to the Apollo mission, a piece of knowledge as innate as how to breathe or walk. Besides if someone didn't know Omega themselves would be quick to tell them. You can't escape the marketing surrounding the moon watch as Omega pushes the moon into any picture of the Speedmaster that they can. Not that I'm complaining, I think if you have a link to as momentous an event as the moon landing than you should shout about it. There is something interesting though about how other brands contrast. If Omega is the brand out front desperate to tell their customers about how the Speedmaster was the first watch on the moon, or the Seamaster being Bond's watch or even more niche models like the Railmasters link to railway workers, then Tudor is the far quieter equivalent.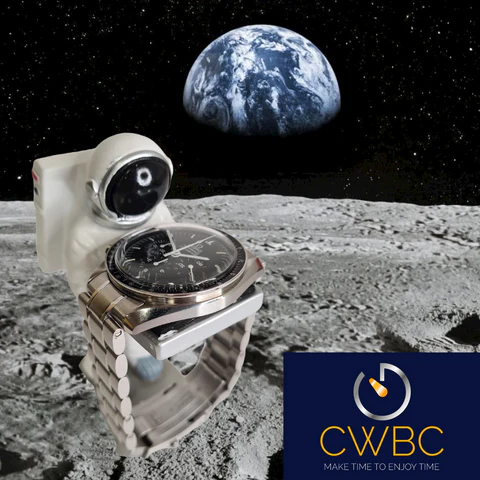 Whilst Tudor's history is shorter than Omega's and exists in the shadow of Rolex it is odd that they don't make a bigger noise about some of their previous models. Tudor has a variety of watches they could brag about, including watches which were commissioned to militaries all around the world. Yet Tudor seems to be far more focused on being seen as the ever up to date and perennially new watch brand. Reinventing itself every few years with a few fixed models but otherwise they are always targeting something new. There are obviously exceptions, such as the recently released Tudor Ranger but they still could do more with the history they have.
Tudor was founded with a simple mission which Hans Wilsdorf (founder of Rolex) phrased like this, "for some years now, I have been considering the idea of making a watch that our agents could sell at a more modest price than our Rolex watches, and yet one that would attain the standard of dependability for which Rolex is famous. I decided to form a separate company, with the object of making and marketing this new watch. It is called the TUDOR watch company." So the same quality of a Rolex but for a lower price, and you can see that idea permeate Tudor to this day, yet it was even more apparent back then.
The name Tudor was trademarked in 1926 (Wilsdorf was an anglophile and as such wanted to name the brand after the influential English dynasty) the first watch wasn't produced until 1932. They were quite standard for the time rectangular watches with Tudor written plainly on the dial, some featured Rolex on the dial too in an attempt to advertise the quality of the watch. In 1936 the Tudor Rose started to appear on the dial, as did the shield which has since become their logo. The Rose and Shield together are to symbolise the unity of strength and grace. Further pushing the idea of a Tudor being as tough and well designed as a Rolex but not as expensive.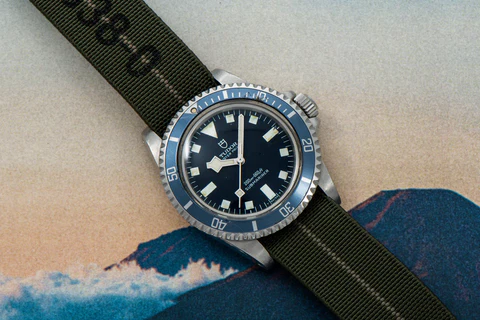 In 1946 with the second world war coming to an end Wilsdorf decided now was the time to expand and turn Tudor into it's own brand rather than a Rolex off shoot. Motres TUDOR SA was established and they ran their company as if they were a truly independent company when it came to creating watches. Rolex still guaranteed the technical, aesthetic and functionality to alleviate any concerns new customers might have and they handled the after sales service but Tudor had truly become their own thing.
Between 1946 and 1954 Tudor was having pretty good success with their releases, their Tudor Prince being a worthy contender to a Rolex or Omega alternative but cheaper. 1954 was when Tudor saw a real step change in terms of functionality as that was when they released the Tudor Oyster Prince Submariner. Designed to be as functional as possible and going through numerous iterations in the proceeding decades. When the watch was released, it had only 100m water resistance but within just four years it was boosted to 200m of water resistance. The original run of Tudor Subs have become very collectable with the 7900 series of watches fetching very high prices on the second hand market. Which is funny considering the original idea of them being an affordable everyman watch.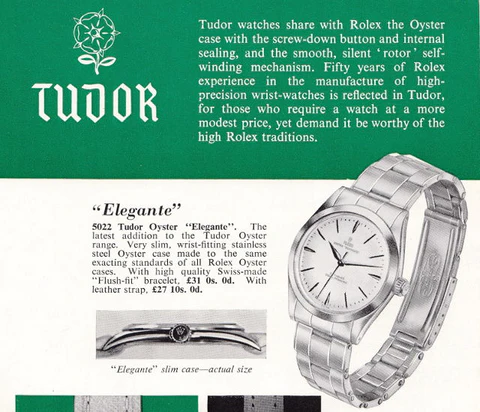 The 7900 series was so well respected that in 1964 it was used by the United States Navy (USN). The reverse of the case would bear the markings USN and the date it was ordered. In terms of pure functionality above all else it is hard to be the seal of approval that the military give. No organisation require quite such toughness, ruggedness and dependability that the armed forces do. So the fact Tudor has so many links to militaries around the world should show you how tough their watches are. The Marine Nationale used Tudor watches multiple times and even invented their own parachute belt watch straps to go with their watches. The stretchy material made it easier to fit the watch over a wet suit.
Whilst modern Tudor is certainly nice and does a good job of following their initial plan of Rolex quality but for less money I personally feel that they should lean into their history more. At time of writing there are six variations of the Black Bay and five variations of the Black Bay Fifty-Eight and when you look into Tudors history there are so many vintage models they could bring back. Tudor Advisor with its' simple four hand layout and an added alarm function, their smaller and more traditional dress watches or even a more modern watch such as their colourful Montecarlo from the 1970s.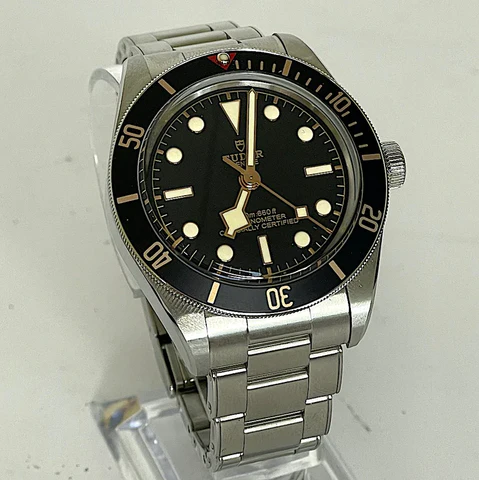 So this is all to say that Tudor has a long and storied history with links to some of the greatest military units known to man as well as a very agreeable company ethos. I wonder how many people think of Tudor as just Rolex's little brother which feels like an undersell. When you buy a Tudor you aren't getting a learners Rolex or anything like that, you are simply getting a very well made and robust Tudor. A true classic and luxury watch in it's own right which happens to be linked to the crown. If Tudor was more heavily advertising themselves as their own brand I think it would help them to step out of the shadow of their parent company. In saying that they are currently selling at a staggering rate so maybe they should just keep doing as they're doing.
To see the Tudor's we currently have in store please follow the link below.