How to buy a Pre-Owned Luxury Watch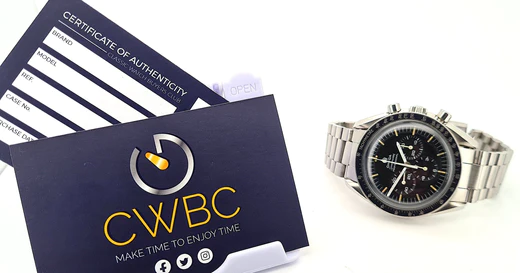 Probably the most common question we get is how to buy a pre owned watch safely. So we have written a guide on the key points when it comes to buying a luxury watch.
Much like with all things there seems to be a lot of noise around how to buy watches but not a lot of clear information. Conflicting opinions, information and everyone offering 'sound advice' makes it difficult to know where to go. This guide is to try and clearly layout the key considerations when purchasing a second-hand watch and will guide on what pitfalls to avoid.
The following is a general guide to help you be better equipped to buy with confidence. The first topic to broach is how important are boxes and papers? Whilst having box and papers does raise the value of the watch as a package and implies the watch is genuine it doesn't prove anything. Forged papers like fake watches are common place and as such you can't use box and papers as the full proof of authenticity.
The most important rule and the mantra that should be repeating in your head is, "you're buying the seller not the watch". A simple phrase which summarises the biggest pitfall people fall into. It doesn't matter if the watch has perfect pictures and seems right if the dealer is acting dodgy. The dealer should be open to communication, transparent about what they are selling and able to answer questions about the watch and provide more pictures or information as needed. If they seem very monosyllabic in responses, are vague with their information and reluctant to send more pictures or information about the watch it is best to walk away. Basically, follow your gut, if something seems off about the dealer and they are being opaque don't risk your money.
So how do you deal with a new dealer? Someone you're not sure about is offering you your grail watch for a fair price and the pictures look right but something seems off. Well, there are ways of purchasing watches which will reduce the risk of buying a fake watch. Namely purchasing through a platform such as eBay. They run an authenticity guarantee on all watches with a value over £1,500 which means you should be safe buying any watch over £1,500 on eBay. Other options include sites like Chrono24, where the money is held in escrow until both parties are happy. This gives you the opportunity to inspect the watch in person. This does come with a cost. Dealers and independent stores are charged a fee to sell through these platforms and that normally means higher prices for the customer and less wiggle room for price negotiations. To get the best saving on watches you have to go directly through the dealer, either their site or brick and mortar store. This leads nicely onto the next point of how the dealer trades and their feedback.
A poor reputation should be a red flag. If a fake was sold through a store or opaque dealings then you will lose customers fast. It is worthwhile to do a little research into the seller. Check out their reviews on sites like Trustpilot or platforms such as Chrono24, eBay etc and see what people are saying. Also look into how they operate; do they have a physical location and have they been in business for years or months? Having a physical store means you can see them in person if there is an issue. Also, a company that has been in business a few years has a lower chance of selling fake watches than a brand-new pop up. A little bit of research goes a long way in ensuring you aren't going to lose your money.
Also look to see what the dealer offers, at The Classic Watch Buyers Club for instance every second-hand watch purchase comes with a two-year mechanical warranty and life time authenticity guarantee. This shows confidence in the watches sold are mechanically right and authentic. If there is an issue, know you can go to the store in person, call them, email etc and you will be covered by the warranties. That is something worth asking before purchasing. Ask what warranties and guarantees are provided. If there is no mechanical warranty or authenticity guarantee than it implies, they aren't confident in their watches. That should raise questions about the watches.
The elephant in the room is private sellers, it is a difficult topic to broach as it really comes down to each individual seller. Some will be brilliant, others not so much. Similar idea of buying the seller with one key caveat, that is you have to be extra careful. A private seller, whilst possibly cheaper can be harder to track down. Private sellers can hide behind anonymous email accounts, public meeting places etc to trade freely. This isn't to say you should never trade with private sellers but be a lot more careful. This is where eBays authentication service comes in handy. It might be safer to pay that bit more to buy the watch through eBay and get the watch authenticated. I would avoid private sellers where dealers are available but you have to use your discretion. Some private sellers are very good and worth trusting, it is just harder to find them as they don't build up the reviews of a dealer and don't have the same infrastructure in place. If you decide to buy through a private seller we strongly recommend you get the watch authenticated by an authorised dealer (AD) or independent watch shop. There will be a cost involved in that but for the peace of mind and protection it is definitely worth it.
The last point isn't about the dealer or private seller but about you. Make sure you are buying the right watch. Ask yourself the basic questions of why you want the watch. Is it for an investment? A new daily wearer? A celebratory purchase to mark an achievement or milestone? The watches which fit those categories back vary greatly, an investment watch for instance isn't a watch you have to like but one you think will appreciate in value where as a celebratory watch has to be something you will enjoy wearing. Similarly, a watch you will wear everyday while at work for instance needs to be robust enough to be worn constantly. So the gold Cartier Tank might be great for a celebration but a steel Omega Seamaster will be a better watch for daily use and a Rolex Submariner for an investment watch as it holds it value very well.
Once you have done your due diligence and found the right watch for you then you can purchase with confidence. I hope this has answered many of your questions but please get in touch if there is anything else you would like to know we are here to help.