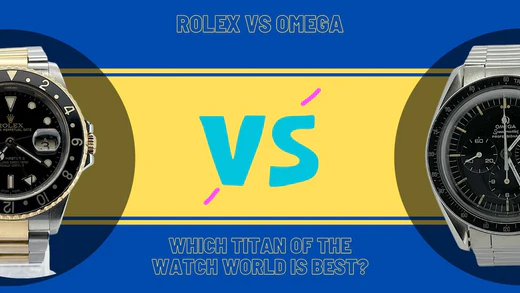 When it comes to luxury watches, Rolex and Omega are two of the most iconic and prestigious brands in the world. Both companies have a long and storied history in the watch industry, and both produce high-quality watches that are highly sought after by collectors and watch enthusiasts.
Design: One of the key differences between Rolex and Omega is their design philosophy. Rolex is known for its classic, timeless designs that have remained relatively unchanged over the years. The Submariner, for example, has a design that has remained largely unchanged since its introduction in 1953. Omega, on the other hand, is known for its more innovative and modern designs. The Seamaster, for example, has undergone several design changes over the years, with more recent models featuring a wave-patterned dial and a more angular case.
Movement: Both Rolex and Omega produce their own in-house movements, which are highly regarded for their reliability and accuracy. However, there are differences in the movements used. Rolex's movements are known for their simplicity and robustness, while Omega's movements are known for their technical sophistication and innovation. Omega's Co-Axial movement, for example, is known for its resistance to magnetism, which can affect the accuracy of mechanical watches.
Price: Both Rolex and Omega watches are expensive luxury items, with prices starting at several thousand dollars. However, Rolex watches are generally more expensive than Omega watches, particularly when it comes to their most iconic models such as the Submariner or the Daytona. This is due in part to Rolex's reputation as one of the most prestigious and exclusive luxury brands in the world.
Durability: Both Rolex and Omega watches are known for their durability and reliability. Rolex watches are made from high-quality materials such as 904L stainless steel, which is highly resistant to corrosion and damage. Omega watches are made from a variety of materials, including stainless steel, titanium, and gold. Both brands use sapphire crystals, which are scratch-resistant and highly durable.
Brand Reputation: Rolex and Omega are both highly respected brands with a long history of excellence in the watch industry. Rolex has a reputation for exclusivity and prestige, with many celebrities and high-profile individuals choosing to wear Rolex watches. Omega, on the other hand, has a reputation for innovation and technical sophistication, with the brand being closely associated with space exploration and sports timing.
In conclusion, both Rolex and Omega are excellent luxury watch brands that produce high-quality, durable, and reliable watches. Rolex is known for its classic designs and prestigious reputation, while Omega is known for its innovative designs and technical sophistication. Ultimately, the choice between these two brands will depend on personal preference, budget, and intended use. Whether you choose a Rolex or an Omega, you can be sure that you are investing in a timeless piece of craftsmanship and luxury.