The Top Five Bond Watches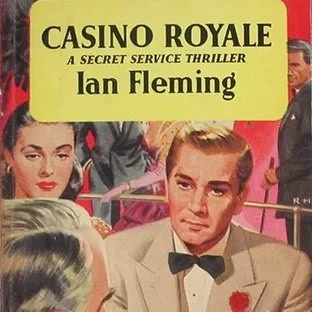 James Bond is one of those characters which is instantly recognizable. The British secret agent with a martini in one hand and a Walther PPK in the other and yet the character has changed quite a bit in his time. Roger Moore was far more comedic than the Bonds before and Craig was far more realistic. Yet the watches Bond wore were overall pretty consistent. With the exception of a few Seiko's and a Hamilton he only really wore dive watches. Not only that, but he clearly had a couple of favourite brands. Today we are going to rank the top Five Bond watches but first an honourable mention.
Rolex GMT Master – Casino Royale (not the one you're thinking of)
Before Daniel Craig took over the role David Niven appeared in a parody Bond film called Casino Royale which whilst not a good film is certainly a bewildering film. Multiple directors and a nightmare production makes Casino Royale almost impossible to look away from. Nothing fits, important scenes are cut leaving huge gaps in the story and it is just overall a not very good film. David Niven makes a good Bond though and his watch choice is excellent. He wears a Rolex GMT Master with a Pepsi bezel that suits the globe-trotting spy well. It is robust enough to be worn daily, dressy enough to be worn with formal wear and the GMT function makes it well equipped for travel.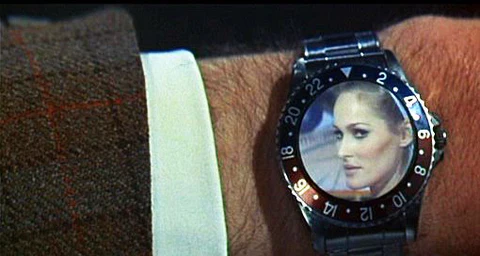 5 – Breitling Top Time – Thunderball
Starting off with an interesting watch from Breitling, the Top Time was modified for its film appearance to make it look more like a geiger counter. If you compare the prop watch to a standard watch the difference is pretty striking. They made the bezel much bigger and it dramatically changed the look of the watch. I think the chunkiness adds to the tool look of the watch and gives it a real air of Q Branch.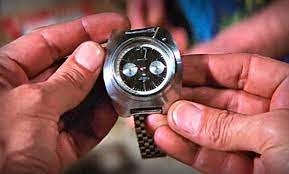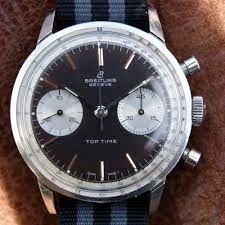 4 – Rolex Chronograph Ref 6238 – On Her Majesty's Secret Service
George Lazenby's only outing as 007 and that was probably for the best. Despite the film being better than most remember Lazenby himself struggled to sell Bond and had a tough act following Connery. Despite the film's wobbles it does feature some very nice watches with a particularly nice Rolex Chronograph being my personal favourite. It was before the Daytona and looks marginally different. It is a dressier watch than the Daytona and perhaps fits the travelling 1960s businessman look Bond often goes for better than the Daytona would. It is a beautiful watch with a great movement in it but maybe don't fall in love with it as prices for one of these have gone through the roof.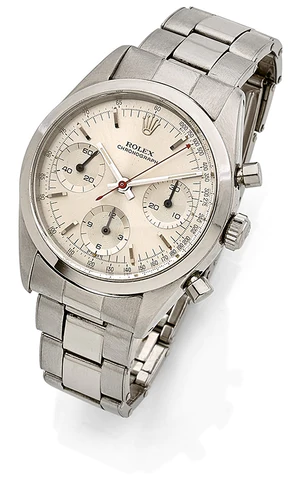 3 – Omega Seamaster 300M Ref 2531.80 – Goldeneye, Tomorrow Never Dies, The World is Not Enough, Die Another Day
The first Omega and the first watch to be featured in multiple films, though not the last for either. Brosnan was tasked with relaunching the franchise with Goldeneye and whilst his run wasn't perfect he did a good job of pulling the character into the modern world. Brosnan was a more faithful Bond than most and basically only wore one watch, although in Goldeneye it was the quartz and in each subsequent film it was the automatic. The Seamaster is a great diver and in the 36mm size looks dressier and fits smaller wrists far better. The only real criticism of this watch is the bracelet. Why Omega hasn't updated the bracelet to have a taper and touch up the design I don't know but I suspect it is in the works. With that being said for product placement it at least makes sense, it looks like the sort of watch James Bond would wear. Dressy enough to not look off with suits but capable enough for whatever might be thrown at it.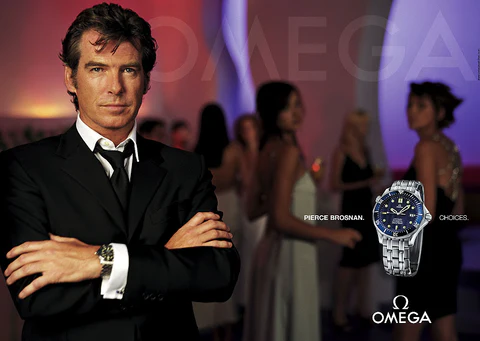 2 – Omega Seamaster No Time to Die Ref 210.90.42.20.01.001 – No Time to Die
The most recent watch at time of writing is simply incredible. The titanium case, aged design and bracelet are all simply brilliant. The watch weighs next to nothing and the design fits the film fantastically whilst also being wearable in the real world. It is also one of those watches where the pictures don't do it justice. If you ever get the chance to try one on please do as it is one of those watches which simply get better the more you see of it. A fitting end for Daniel Craig's successful run as Bond.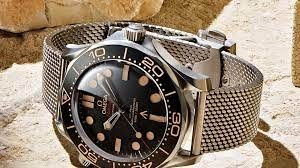 1 – Rolex No Date Submariner Ref 6538 – Dr No, From Russia with Love, Goldfinger
Okay so not a surprising pick. Ask any Bond fan what's the best watch and they'll say this watch. Stories vary but some claim this was the directors watch who quickly gave it to Sean Connery before calling action as he decided the spy needed a watch. Others claim it was Anthony Sinclair's (the tailor for Connery's run of films) who said it fit with the suits but it doesn't really matter. The 39mm Rolex is firmly planted as the Bond watch and simply always will be. The clean no date layout, slightly aged dial and undersized NATO strap are for better or worse (for worse with that tiny strap) the Bond watch.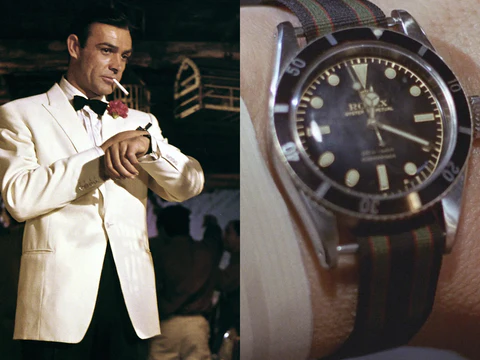 But what do you think? If you feel like we missed anything then please leave a comment below.