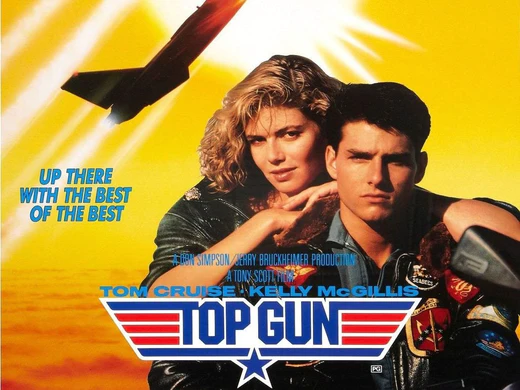 In 1986 the world was treated to the Tom Cruise blockbuster Top Gun which would go on to be copied, emulated and spoofed countless times. It is rare that a film has such a lasting impact on cinema, let alone one from a virtually unknown director Tony Scott. The film maker had only made one film prior to Top Gun and very limited TV work but nothing to the scale of Top Gun. I mention this because I think it is these idiosyncrasies that make the film both work as a blockbuster and as something that sticks in your mind after the credits have rolled.
The film was also helped by its perfect casting of the lead and supporting cast. I don't think any actor could have played Maverick as well as Cruise and it's the same story with Kilmer as Iceman. If it wasn't for this great casting then the soul of the movie would be lost. You can also see their personalities shine through based off of decisions they made on set. Tom Cruise's commitment to doing his own stunts helps to sell the action and his attention to detail around the character of Maverick makes him feel more real.
Nowhere is it more obvious than his choice of wristwatch. Tom Cruise wore his personal Porsche Design black PVD Orfina Chronograph. It makes sense that Maverick would wear a divergent and somewhat out there watch. A black PVD watch isn't common now and even less so in the 80s. Above all though it is a highly efficient time piece and a useful tool for a pilot. The chronograph function has a myriad of different uses when it comes to aviation, everything from calculating how long a run you have to working out your land speed.
It makes sense then that Maverick would use this highly effective watch which has the added benefit of leaning into personal style. A black PVD coated Porsche design watch is a brilliant fusion of form and function. Designed to appeal to everyone who has dreams of racing planes or cars. Whilst there will never be a definitive answer to who is the Bond brand between Rolex and Omega I think it is unquestionable that Porsche Design has cornered the market for Top Gun.
It is very rare that a brand can perfectly encapsulate a character or a film but Porsche has managed. You can see that the film makers take this connection seriously as well since Tom Cruise can be spotted wearing another PVD Porsche Design Chrono in the new film. Clearly, they feel that the watch and the pilot's connection to it is an important piece of consistency for the character. Whilst it isn't clear if it is the same watch or a different model I think the point still stands. Not so much 'one man, one watch' as 'one man, one design'.
At time of writing CWBC has featured two Porsche Design IWC Black PVD Chronographs for sale. Not for everyone but any fan of classic 80s cinema or feel like they operate out with the norm should consider picking it up.